Regular price
Sale price
$22.00 USD
Unit price
per
Sale
Sold out
When Cleopatra and Mark Antony imprisoned his family, parading them through Alexandria in golden chains, Artaxias II managed to escape. Artaxias II, the eldest son of King Artavasdes II, reached his family relations in the Parthian court. Once in the safe custody of King Phraates IV of Parthia, Phraates IV invaded Armenia, disposed of the Roman vassals, and put Artaxias II on the throne in 34 BCE. The Roman historian Pliny the Elder described the plunder of the Armenian pagan temple to Anahit, in the town of Yeriza, where the Roman soldiers broke the golden statue. Between the sacking of Tigranocerta and the treatment of his family, Artaxias II became staunchly anti-Roman.
Artaxias II was a young and energetic leader who was keen on restoring the Armenian empire of his father and grandfather. With the support of Phraates IV, Artaxias II successfully invaded Artavasdes I of Media Atropatene, to whom Cleopatra and an enemy of Armenia, sent his father's head. Artaxias II became spiteful and vengeful towards the Romans, turning his eyes to the garrison and traders within his territory. He massacred any Romans he could find, creating more of a divide between the Roman emperor Augustus and himself and leading to his downfall.
Artaxias II would not be able to hold the reigns of power as tightly as his forefathers had. He was subject to treason from his court, who preferred to align with the mighty Roman Empire. When Augustus's stepson Tiberius, along with Tigranes III, brother of Artaxias II, marched towards the capital of Artaxata, Artaxias II was assassinated by his people. While the Roman army camped not far away, Tigranes III was crowned king of Armenia. He would be the last of the mighty Artaxiad dynasty, but Artaxias II was the last independent king, ushering in the Roman period of Armenian history.
There are only a handful of silver drachmas that have been found, all dating to the last year of Artaxias II's reign. The size, quality, and amounts available of these coins, all speak to the decline of the Artaxiad dynasty. There are two known versions available, one with Athena on the reverse, and the other with Nike. Additionally, there is a monogram used to signify 14 years of regal Armenian King's rule. Artaxias II would be the last Armenian king to use the phrase "King of Kings," on his coinage, as Armenia would become an integral part of the Roman Empire.
DETAILS
Weight: 4 grams
Diameter: 21 mm
Metal Content: 99.9 Fine Silver
Design: Ancient Drachma
Maximum Mintage: 25,000
Grade: Brilliant Uncirculated (BU)
Graphic Artist: Robert Pashayan
Share
View full details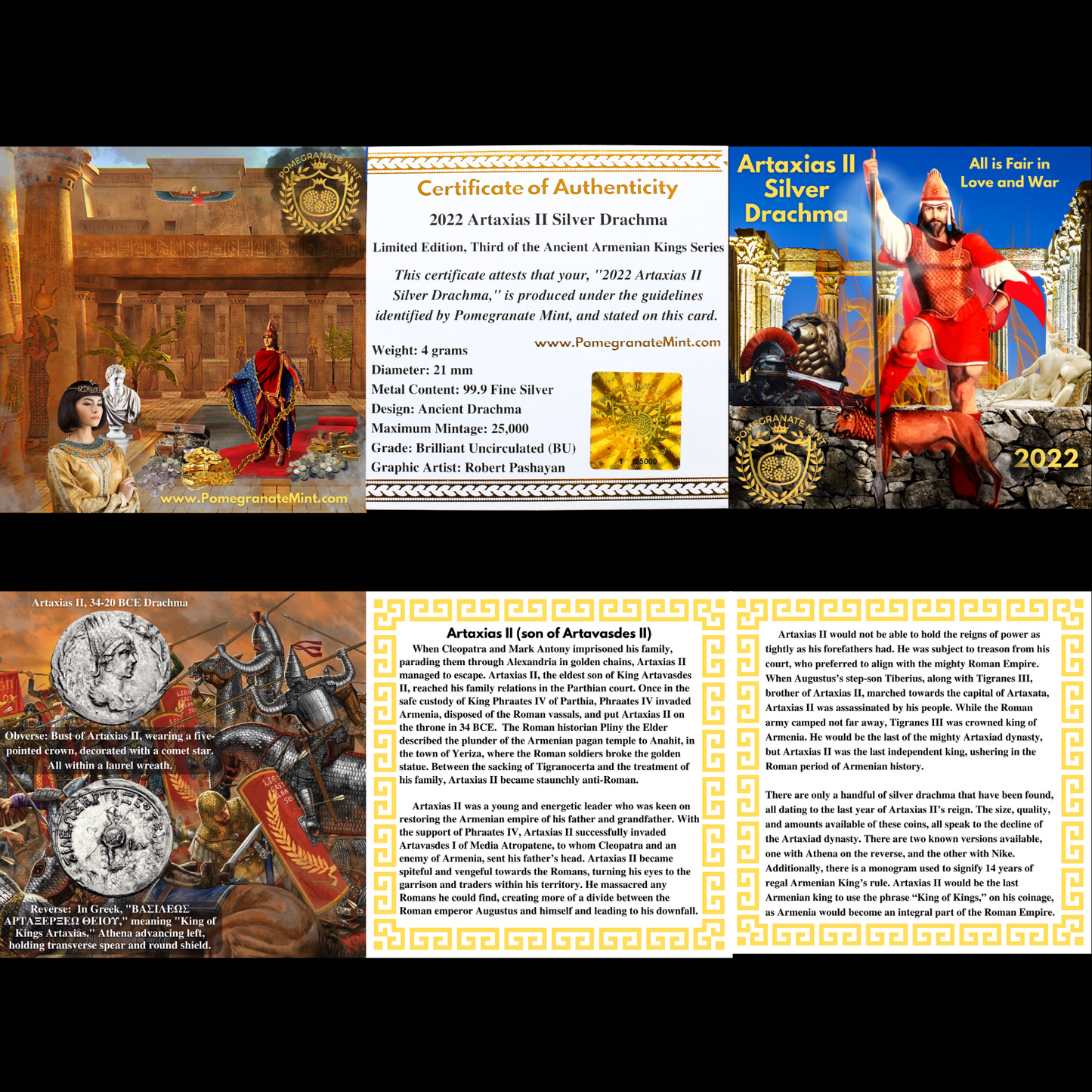 Super quality and beautiful COA. Arrived fairly quick to Singapore.
Free Shipping

If you spend at least $250 Canadian dollars with us, use coupon code FREESHIP, and we will cover the shipping.

Made for You

When you place your order, we will make your clothing orders especially for you.